Health extension workers have been vital in Ethiopia's rural communities. They have introduced new mothers to the importance of child immunisation, taught households about sanitation and, with the recent introduction of ambulances, they refer women to health centres for antenatal care and skilled birth assistance.
These community health workers are selected from the rural areas they come from. After being trained they return to their communities to provide healthcare services. The programme has been very successful. As a result, international institutions including the World Bank, USAID and the World Health Organisation have commended its programme. And several other African countries have been eagerly following it to see how a community based health programme can be taken to scale.
Despite this, Ethiopia has placed little focus on the workers who make up this health workforce. Many want to leave their positions because there is little chance for promotion or transfer.
Unless Ethiopia provides these health workers with better opportunities for education, training and promotion, it stands to lose many of them.
The need for health workers
Critical shortages in Ethiopia's health workforce, along with an uneven distribution of staff, a poor skill mix and high attrition of trained health professionals are among the major obstacles in delivering healthcare.
A total of 83.6% of the population lives in rural areas, making it one of the least urbanised countries in the world. The country's economy is heavily dependent on agriculture, which employs over 70% of the country's workforce.
The country's major health system response is focused on primary healthcare. This is made up of primary hospitals, health centres and health posts, which together form a primary health care unit. The three are connected through a referral system. Primary hospitals refer to general hospitals which, in turn, refer to specialised hospitals.
The health extension programme was introduced in Ethiopia in 2003 to improve access to basic health services, with a specific focus on women and children.
A local service
By 2020 there will be over 50 000 health extension workers in Ethiopia. They form 47% of the health workforce in the country, making up the largest single group. Most (99.5%) are women under the age of 30. They are among the highest educated women in Ethiopia, where only 29% of women are literate.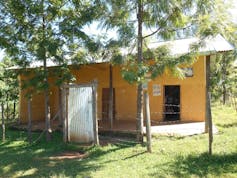 Health extension workers typically have grade 10 education and speak one of the 90 local languages in Ethiopia. They attend vocational training for one year before going back to their communities to become one of two health extension workers for each rural community, or kebele. Each kebele has a health post that serves around 5 000 people and functions as the operational centre for these workers.
Health extension workers provide services in 16 packages. These include:
hygiene and environmental health,
family health,
disease prevention and control, and,
health education and communication.
After training they also provide focused antenatal care, clean and safe delivery and essential newborn care services.
Most of the workers joined the programme because there were few other job opportunities and because they wanted to help mothers and children in their kebeles.
Their presence has made a difference. Before the programme was introduced many of the women didn't know where to go or who to call during birth. One health extension worker explains how she helped a woman in labour: